Stocks Down Under 23 July 2020: AGL Energy, Coronado Global, Wisr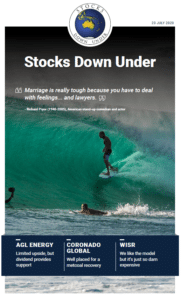 AGL Energy: Limited upside, but dividend provides support
Sydney-based AGL Energy is an electricity and natural gas supplier that generates and sells energy for both residential and commercial use. It generates energy from power stations that use natural gas, coal steam gas, hydroelectricity, wind power and solar power. With more than 3.7m customer accounts it provides approximately 20% of Australia's electricity. AGL's strong financial position allows it to invest in its core electricity and renewable energy portfolio to power future growth. In addition to the growth potential, the defensive shares deliver steady income and currently have a 5.5% dividend yield. However, given the current market condition and looking out 12 months, we believe there is a risk that dividend may be cut. Not by much, but enough to make us a bit cautious.
Also in today's edition, a look at metcoal play Coronado Global (ASX:CRN) and Neo-lender Wisr (ASX:WZR).
Get access to this edition and all previous ones with a 2-week FREE TRIAL. No charge on sign up.
Please register or upgrade your plan to access this content.