ASX Top 200 Stocks Down Under 15 February 2021: AMP Limited, Tilt Renewables, HUB24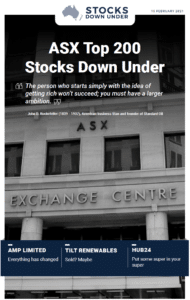 AMP Limited: Everything has changed
In today's edition of ASX Top 200 Stocks Down Under, in what is our third update on the AMP Limited, we are changing our rating from four stars to two. When we first published our four star rating on 4 September 2020, it was directly after the 2 September announcement of an asset review. However, as announced on 11 February 2021, everything changed as the company saw its only suitor, Ares Management, pull its offer. In accordance with this, management is now trying to turn the company around themselves. So, what does this mean for AMP?
Also in today's edition, a look at wind and solar farm developer and operator Tilt Renewables (ASX: TLT) and financial platform developer HUB24 (ASX: HUB).
Get access to all editions through a 30-day FREE TRIAL. No credit card required and the trial expires automatically.
Click here to read the previous edition of ASX Top 200 Stocks Down Under published 8 February 2021
For in-depth research reports or to keep up-to-date on the latest Stocks Down Under news see our parent company, Pitt Street Research, or follow us on Facebook and Twitter
Please register or upgrade your plan to access this content.