Emerging Stocks Down Under 6 July 2021: Anteotech, Biomics, Sunrise Energy Metals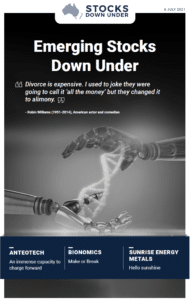 Anteotech: An immense capacity to charge forward
In today's edition of Emerging Stocks Down Under, AnteoTech is a Brisbane-based technological solutions company. While it operates in multiple sectors, its main focus is on increasing the capacity of modern Lithium-ion batteries. Currently, it provides everything from kits that improve the conjugation process in medical testing to COVID-19 test kits. However, it plans to grow by targeting the energy sector. It aims to do this through AnteoCoat, a technology containing compounds that enable control over material properties and silicon interactions in battery anodes.
Also in today's edition, a look at clinical-stage biophamaceutical company Bionomics (ASX: BNO) and miner and Clean-iX developer Sunrise Energy Metals (ASX: SRL).
Click here to read the previous edition of Emerging Stocks Down Under published 29 June 2021
For in-depth research reports or to keep up-to-date on the latest Stocks Down Under news see our parent company, Pitt Street Research, or follow us on Facebook and Twitter.
Please register or upgrade your plan to access this content.