Stocks Down Under 22 May 2020: Appen, Lycopodium, MSL Solutions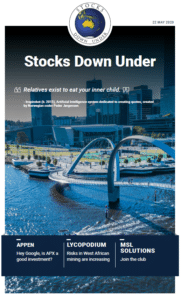 Appen: Hey Google, is APX a good investment?
Whenever you go online to shop, search and be Social on Media, chances are Sydney-based Appen had a big role to play in what you get served up on screen or by your Digital Assistant. Appen helps the world's largest technology companies, including Microsoft and Facebook, train their Artificial Intelligence systems. It has been doing this so successfully that the market is now projecting that Appen will achieve more than $700m in revenues this year, up from just $51m in 2014. You may have noticed that we at Stocks Down Under don't shy away from high valuations as long as the growth is there. With Appen trading at an EV/EBITDA of 27x, it'd better fit the high-growth bill!
Get access to this edition and all previous ones with a FREE 2-week TRIAL. No charge on signup.
Please register or upgrade your plan to access this content.