Emerging Stocks Down Under 2 November 2020: Aroa Biosurgery, Alcidion Group, Elsight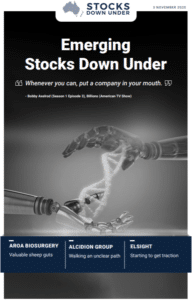 Emerging Stocks Down Under Edition #7
Aroa Biosurgery: Valuable sheep guts
In today's edition of Emerging Stocks Down Under, Auckland-based biotechnology company Aroa Biosurgery had a great start to its listed life on ASX in July 2020. The company offered 60 million shares at A$0.75 per share in its IPO, but the stock came on the boards at $1.40 and has yet to go below $1.25. Investors have liked Aroa because this company is now revenue-stage and because its products, designed to improve healing in complex wounds and soft tissue reconstruction, are demonstrably superior to the competition's.
Also in today's edition, a look at hospital management software developer the Alcidion Group (ASX: ALC) and communication and network security company Elsight (ASX: ELS).
Get access to all editions through a 2-week FREE TRIAL. No charge on sign up.
Click here to read the previous edition of Emerging Stocks Down Under published 27 October 2020
For in-depth research reports or to keep up-to-date on the latest Stocks Down Under news see our parent company, Pitt Street Research, or follow us on Facebook and Twitter
Please register or upgrade your plan to access this content.