Small Cap Stocks Down Under 22 October 2020: Asaleo Care, Access Innovation, Saunders International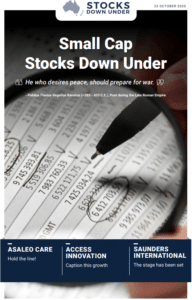 Small Cap Stocks Down Under Edition #5
Asaleo Care: Hold the line!
Today in Small Cap Stocks Down Under, headquartered in Melbourne, Asaleo Care is a manufacturer and distributor of eight different brands focusing on personal hygiene products. Some of Asaleo's more recognisable products are Libra tampons, Tena pads, Purex toilet tissue and workplace hygiene brand Tork. While many of these products saw panic buying during the opening salvo of the pandemic, the stock has not moved much itself, seemingly stuck in its 52-week range. However, with hardwood prices at all time lows, the cost of goods sold is about to take a nosedive, just in time for lower sales.
Also in today's edition, a look at caption software developer Access Innovation (ASX: AIM) and bridge and liquid tank developer Saunders International (ASX: SND).
Get access to all editions through a 2-week FREE TRIAL. No charge on sign up.
Click here to read the previous edition of Small Cap Stocks Down Under published 16 October 2020
For in-depth research reports or to keep up-to-date on the latest Stocks Down Under news see our parent company, Pitt Street Research, or follow us on Facebook and Twitter
Please register or upgrade your plan to access this content.