ASX Top 200 Stocks Down Under 30 May 2022: BrainChip (ASX:BRN)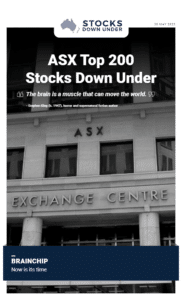 BrainChip: Now is its time
Few ASX companies have attracted as much attention in recent years as BrainChip (ASX: BRN). For the past few years, it has been developing its Akida computer chip, which function the same way the human brain does. BrainChip's share price is down from its all-time highs, but well ahead of where it was pre-Corona Crash – more than forty times in fact. But its most exciting time might be just around the corner.
Click here to read the previous edition of ASX Top 200 Stocks Down Under published 23 May 2022
For in-depth research reports or to keep up-to-date on the latest Stocks Down Under news see our parent company, Pitt Street Research, or follow us on Facebook and Twitter.
Please register or upgrade your plan to access this content.