ASX Top 200 Stocks Down Under 6 September 2021: Janus Henderson Group Plc, Bendigo and Adelaide Bank, Charter Hall Retail REIT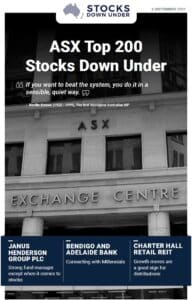 Janus Henderson Group Plc: Strong fund manager except when it comes to stocks
In today's edition of ASX Top 200 Stocks Down Under, When we last wrote about London-based Janus Henderson on 28 February 2020, the share was being dragged down by the Corona Crash. As the capital markets recovered, so too did the global asset manager, which has seen its stock blast past the $50 level for the first time since early 2018. Fund performance has been mostly solid, but fund outflows and an ailing equity business remain concerns. Given the 104% advance over the last 12 months and a stretched valuation, we think a neutral stance is most appropriate here.
Also in today's edition, a look at up-and-coming bank Bendigo and Adelaide Bank (ASX: BEN) and Retail REIT Charter Hall Retail REIT (ASX: CQR).
We last wrote about the Janus Henderson Group Plc, Bendigo and Adelaide Bank, and the Charter Hall Retail REIT on 28 February 2020, 19 March 2020, and 2 March 2020, respectively.
Click here to read the previous edition of ASX Top 200 Stocks Down Under published 30 August 2021
For in-depth research reports or to keep up-to-date on the latest Stocks Down Under news see our parent company, Pitt Street Research, or follow us on Facebook and Twitter.
Please register or upgrade your plan to access this content.