ASX Top 200 Stocks Down Under 7 November 2022: Brickworks (ASX:BKW)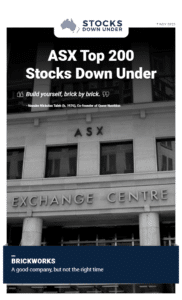 Brickworks: A good company, but not the right time
At first glance, Brickworks (ASX:BKW) might seem like a no-brainer. It has not cut its dividend for nearly five decades, is trading at cheap multiples and has solid businesses in Australia and North America not to mention a 26% stake in listed investment company WHSP and extensive industrial property holdings. But even though it is a good company, we don't think it is the right time to invest
Click here to read the previous edition of ASX Top 200 Stocks Down Under published 31 October 2022.
For in-depth research reports or to keep up-to-date on the latest Stocks Down Under news see our parent company, Pitt Street Research, or follow us on Facebook, LinkedIn and Twitter.
Please register or upgrade your plan to access this content.