Stocks Down Under 15 June 2020: Aventus Group, Jupiter Mines, Intega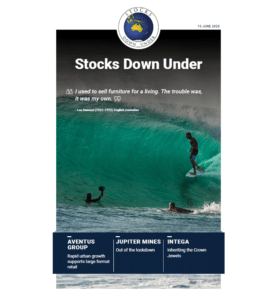 Aventus Group: Rapid urban growth supports large format retail
Sydney-based Aventus Group is Australia's largest fully integrated shopping centre owner focused on the development of large format retail parks. Back in February, the share price was cut in half in a matter of weeks as retail-related companies were among the hardest hit by the Coronavirus pandemic. In hindsight, the reaction may have been unjustified considering the company's meaningful exposure to essential consumer goods and high-quality national retailers. As the Australian economy re-opens and shoppers return to its centres, Aventus is in a good position to grow. Its robust development pipeline and disciplined capital management bode well for the expansion of its diverse property portfolio.
Get a FREE 2-week TRIAL and access all editions of Stocks Down Under!
Please register or upgrade your plan to access this content.