Small Cap Stocks Down Under 30 April 2021: Bell Financial Group, Steamships Trading Company, McPherson's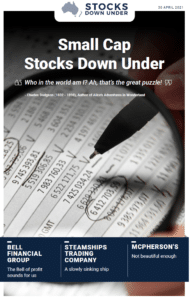 Bell Financial Group: The Bell of profit sounds for us
In today's edition of Small Cap Stocks Down Under, headquartered in Victoria is a company whose name might ring a bell. The Bell Financial Group is a provider of stockbroking and financial advisory services to private, institutional, and corporate clients. The company operates through 14 offices in Australia, New York, London, Hong Kong, and Kuala Lumpur. Bell's stock finished 2020 strong, ending up 160% from its March low of $0.65 per share. However, it is currently going through a slight pullback, which we believe is a call to action.
Also in today's edition, a look at Papua New Guinea conglomerate Steamships Trading Company (ASX: SST) and supplier of health and beauty products McPherson's (ASX: IVR).
Click here to read the previous edition of Small Cap Stocks Down Under published 23 April 2021
For in-depth research reports or to keep up-to-date on the latest Stocks Down Under news see our parent company, Pitt Street Research, or follow us on Facebook and Twitter.
Please register or upgrade your plan to access this content.