Emerging Stocks Down Under 28 September 2021: Bigtincan, Smart Parking, DroneShield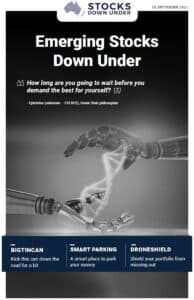 Bigtincan: Kick this can down the road for a bit
In today's edition of Emerging Stocks Down Under, headquartered in Sydney, Bigtincan strives to take the sales game to a higher level with its mobile-focused, allencompassing sales automation software. From a revenue perspective the company had an extremely strong showing during FY21, despite mounting losses, as management continues to push for growth. The market doesn't expect Bigtincan to generate an EBITDA profit before FY24. But with so much time between now and then, what are the chances that this can of profitability is going to be kicked down the road a little longer?
Also in today's edition, a look at parking analytics and management system developer Smart Parking (ASX: SPZ) and drone protection solutions developer DroneShield (ASX: DRO).
Click here to read the previous edition of Emerging Stocks Down Under published 21 September 2021
For in-depth research reports or to keep up-to-date on the latest Stocks Down Under news see our parent company, Pitt Street Research, or follow us on Facebook and Twitter.
Please register or upgrade your plan to access this content.