Stocks Down Under 28 July 2020: Champion Iron, Investec Australia Property Fund, Virtus Health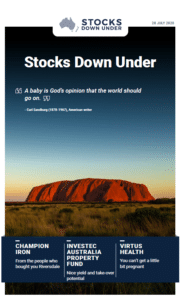 Champion Iron: From the people who bought you Riversdale
The snap-back in the fortunes of Champion Iron, owner of the Bloom Lake Iron Ore Mine in Canada, has been nothing less than spectacular. The stock halved between early January and the bottom of the Corona Crash in late March. However, from that low it proceeded to more than double by mid-July. The catalyst has been improved iron ore prices and we believe there can be more where that came from if Champion moves ahead with plans to double Bloom Lake's capacity. Until that move happens, though, we'd be a little cautious.
Also in today's edition, Investec Australia Property Fund and Virtus Health.
Get access to all editions through a FREE TRIAL. No charge on sign up.
Please register or upgrade your plan to access this content.