Stocks Down Under 15 September 2020: Charter Hall Group, Bubs Australia, 4DS Memory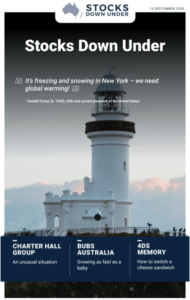 Charter Hall Group: An unusual situation
The Charter Hall Group can be described as two separate, but related businesses. The first is the property investment division, which currently owns 1,027 properties across Australia and New Zealand. The second is the property funds management division, which manages properties both for the Charter Hall Group and other entities. As most of the Charter Hall Group's properties are in NSW, it makes sense that its head office would be in Sydney. The Charter Hall Group is a well-run company with solid, long-term rental properties and we believe the market has priced it accordingly.
Also in today's edition, a look at semiconductor developer 4DS Memory and baby milk producer Bubs Australia.
Get access to all editions through a 2-week FREE TRIAL. No charge on sign up.
Please register or upgrade your plan to access this content.