Stocks Down Under 17 July 2020: Cochlear, Cooper Energy, Ardent Leisure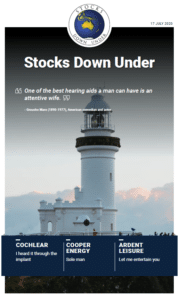 Cochlear: I heard it through the implant
Headquartered in Sydney, Cochlear is a global medical device company that supplies hearing implants, acoustics and related accessories to the hearing impaired. With operations in the Americas, EMEA and Asia Pacific, the company holds a leading 60% share in the global hearing device market having sold more than a half million implants. Cochlear invests significantly in R&D, which leads to the development of innovative hearing technology products for healthcare providers and patients. The shares offer a 1.8% dividend yield and significant upside potential, in our view, given the favourable demographics and growth opportunities in both developed and emerging markets.
Also in today's edition, Cooper Energy (ASX:COE) and Ardent Leisure (ASX:ALG).
Access all editions with a FREE TRIAL. No charge on sign up.
Please register or upgrade your plan to access this content.