Small Cap Stocks Down Under 14 May 2021: DDH1, K&S Corporation, SRG Global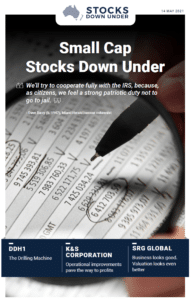 DDH1: The Drilling Machine
In today's edition of Small Cap Stocks Down Under, DDH1 Group is likely one of the smaller mid cap companies worth a few hundred million that slipped through your radar. Headquartered in Perth, the group provides drilling contracting services to the Australian resources sector. The company started out in 2006 with one drill rig, but as of 2021 has 96 active rigs across Australia. Superior techniques and skills as well as safety have paved their continuous growth and now they have a scale advantage as well.
Also in today's edition, a look at construction and engineering services company SRG Global (ASX: SRG) and transportation, warehousing, and fuel distribution services provider K&S Corporation (ASX: KSC).
Click here to read the previous edition of Small Cap Stocks Down Under published 7 May 2021
For in-depth research reports or to keep up-to-date on the latest Stocks Down Under news see our parent company, Pitt Street Research, or follow us on Facebook and Twitter.
Please register or upgrade your plan to access this content.