Stocks Down Under 18 June 2020: Fletcher Building Novonix Jervois Mining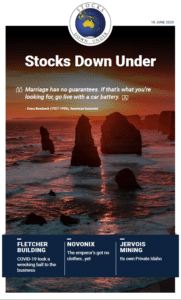 Novonix: The emperor's got no clothes…yet
Sometimes stocks just take off without warning. That just happened to Novonix, a Brisbane-based company involved in various lithium-ion battery technologies. You could get this one for just 22 cents a share on 23 March at the bottom of the Corona Crash, and for 41 cents on 1 June. However, in just in the last few sessions it's been as high as $1.30. Rechargeable batteries are a pretty important part of the 21st century economy, but let's look at whether the current Novonix spike represents rational or irrational exuberance.
Get access to today's edition with a FREE 2-week TRIAL!
Please register or upgrade your plan to access this content.