Stocks Down Under 9 June 2020: Harvey Norman, Genetic Signatures, Southern Cross Electrical Engineering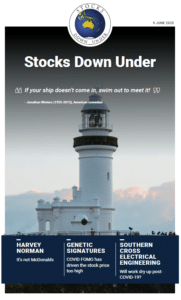 Harvey Norman: It's not McDonalds
During the Coronavirus Crisis the stock of the Sydney-based Harvey Norman crashed harder than the general market and in the recovery it has lagged. We believe that Harvey Norman's better days as retailer of furniture, beds, lounges, TVs and computers are behind it. The format still has some life in it, but over time we believe more nimble competitors will overtake it. This crisis may be their gain and Harvey Norman's loss.
Get a FREE 2-week TRIAL and get access to all previous editions of Stocks Down Under.
Please register or upgrade your plan to access this content.