Emerging Stocks Down Under 16 February 2021: Imricor Medical Systems, Damstra, Advance Nanotek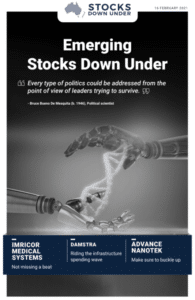 AMP Limited: Everything has changed
In today's edition of Emerging Stocks Down Under, Imricor Medical Systems, headquartered in the world's medical device capital of Minneapolis-St Paul, USA, has developed the world's first MRI-compatible system for cardiac catheter ablation, with the system gaining CE Mark approval for Europe in January 2020. If you or someone you know are among the 12 million, or so, people worldwide that have atrial fibrillation, or some other arrhythmia problem, you may appreciate what a breakthrough Imricor has achieved. This innovative company is still in the early stages of its growth.
Also in today's edition, a look at workplace management solutions developer Damstra (ASX: DTC) and sunscreen product developer Advance Nanotek (ASX: ANO).
Get access to all editions through a 30-day FREE TRIAL. No credit card required and the trial expires automatically.
Click here to read the previous edition of Emerging Stocks Down Under published 9 February 2021
For in-depth research reports or to keep up-to-date on the latest Stocks Down Under news see our parent company, Pitt Street Research, or follow us on Facebook and Twitter
Please register or upgrade your plan to access this content.