Stocks Down Under 4 June 2020: IOOF Holdings, Atrum Coal, Field Solutions Holdings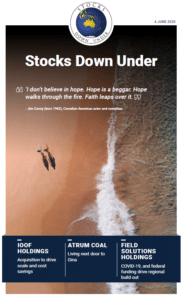 IOOF Holdings(ASX:IFL): Acquisition to drive scale and cost savings
Based in Melbourne, IOOF Holdings is a diversified financial services company that offers financial advice, portfolio management and administration, and investment management products to advisors and their clients. The group's roots date back to 1846 when the Independent Order of Odd Fellows (IOOF) was formed as a friendly society that provided security to those not supported by the Government. Today, it is a growing collection of businesses and brands that includes Bridges, Consultum, Lonsdale, Shadforth and IOOF. Cost synergies and a broadened reach gained from the recent P&I acquisition combined with the reliability of the Portfolio and Estate Administration business should be supportive of long-term earnings growth.
Don't miss out! Get a 2-week FREE TRIAL subscription through the link below.
No charge on sign up, cancel anytime in the first two weeks.
Please register or upgrade your plan to access this content.