Small Cap Stocks Down Under 20 August 2021: Keypath Education International, DGL Group, Ashley Services Group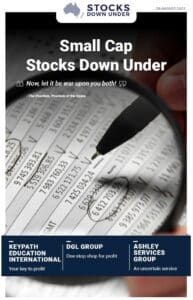 Keypath Education International: Your key to profit
In today's edition of Small Cap Stocks Down Under, if you wanted evidence of the strength of the ASX, look no further than the recent IPO of US-based Keypath Education International. This online education platform developer has expanded rapidly since its founding in 2014, mostly in the United States. In part due to this strong growth, the company currently still operates at a loss, but if FY21's results are any indication, Keypath is well on its way to teaching a masterclass in becoming profitable.
Also in today's edition, a look at one-stop-shop chemical supply chain provider the DGL Group (ASX: DGL) and white-collar recruitment service provider Ashley Services Group (ASX: ASH).
Click here to read the previous edition of Small Cap Stocks Down Under published 13 August 2021
For in-depth research reports or to keep up-to-date on the latest Stocks Down Under news see our parent company, Pitt Street Research, or follow us on Facebook and Twitter.
Please register or upgrade your plan to access this content.