Stocks Down Under 24 August 2020: Kogan.com, Helios Energy, Propel Funeral Partners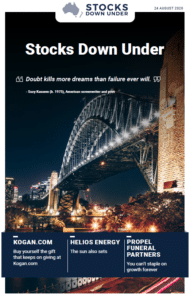 Kogan.COM: Buy yourself the gift that keeps on giving at Kogan.com
Kogan.com is an internet-based conglomerate headquartered in Melbourne with a portfolio of nine main divisions. From home loans to insurance for your pet to a toy for your child, Kogan.com has something for almost every consumer. Often called the Amazon of Australia, Kogan.com has seen remarkable growth from its main platform, Kogan Retail, which it has driven into expanding into other markets and industries. While COVID-19 has cried 'Havoc' and let slip the dogs of war on many retail companies, due to Kogan.com's purely online nature, COVID-19 could drive Kogan.com's business for years to come.
Also in today's edition, oil explorer Helios Energy (ASX:HE8) and funeral services provider Propel Funeral Partners (ASX:PFP).
Get access to all editions through a 2-week FREE TRIAL. No charge on sign up.
Please register or upgrade your plan to access this content.