Resources Stocks Down Under 4 November 2021: Lepidico, Apollo Consolidated, Magnum Mining and Exploration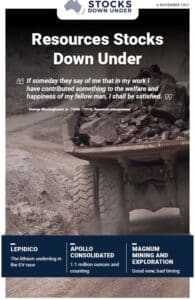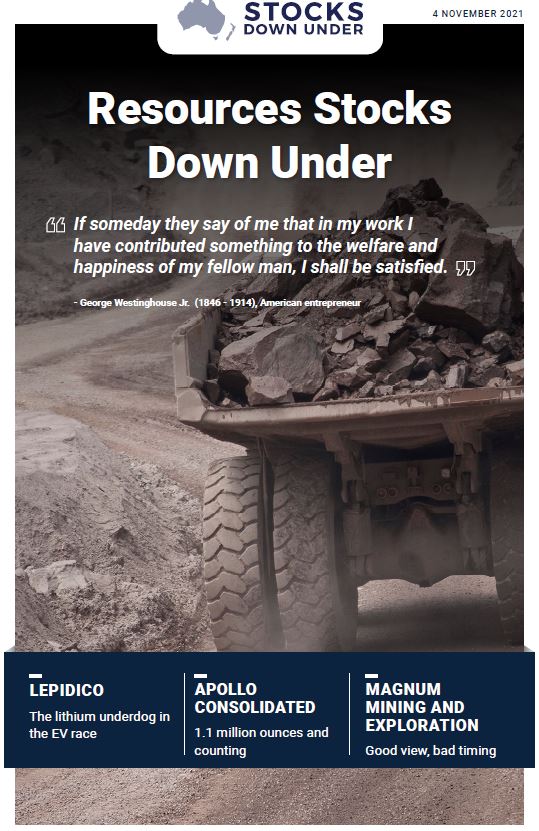 Lepidico: The lithium underdog in the EV race
In today's edition of Resources Stocks Down Under, we've said it before and we'll say it again - the growing EV demand means a massive growth in demand for lithium, which could triple between 2020 and 2030. Lepidico intends to be a player with its unique technology that allows the production of lithium carbonate from lithium mica. While share prices for companies like Lake Resources (ASX: LKE |
see 8 April 2021 report
) and Vulcan (ASX: VUL |
see 21 January 2021 report
) have already finished their first laps, can Lepidico catch up from the start line?
Also in today's edition, a look at gold miner Apollo Consolidated (ASX: AOP) and iron ore miner Magnum Mining and Exploration (ASX: MGU).
Click here to read the previous edition of Resources Stocks Down Under published 28 October 2021
For in-depth research reports or to keep up-to-date on the latest Stocks Down Under news see our parent company, Pitt Street Research, or follow us on Facebook and Twitter.
Please register or upgrade your plan to access this content.