Resources Stocks Down Under 31 December 2020: Lotus Resources, Gibb River Diamonds, Elixir Energy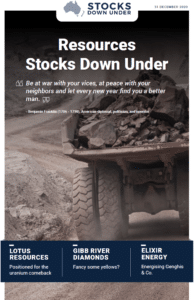 Lotus Resources: Positioned for the uranium comeback
In today's edition of Resources Stocks Down Under, the timing was exquisite for Lotus Resources, the company which now owns most of the old Kayelekera uranium mine in the southern African nation of Malawi. The transaction to buy Kayelekera from Paladin Energy was announced in June 2019 when the price of uranium was about US$24 a pound. In March 2020, right when the deal closed, uranium spiked to well over US$30 a pound. We see considerable upside for Lotus as it moves to bring Kayelekera back into production.
Also in today's edition, a look at diamond and gold miner Gibb River Diamonds (ASX: GIB) and methane driller Elixir Energy (ASX: EXR).
Get access to all editions through a 30-day FREE TRIAL. No credit card required and the trial expires automatically.
Click here to read the previous edition of Resources Stocks Down Under published 24 December 2020
For in-depth research reports or to keep up-to-date on the latest Stocks Down Under news see our parent company, Pitt Street Research, or follow us on Facebook and Twitter
Please register or upgrade your plan to access this content.