Stocks Down Under 27 July 2020: Magellan Financial Group, Sandfire Resources, Sky Network Television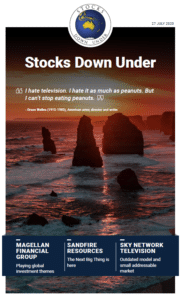 Magellan Financial Group: Playing global investment themes
Sydney-based Magellan Financial Group is a fund management company that invests globally. Formed in 2006, the company has a solid track record in global equities and global listed infrastructure that has benefitted from key investment themes such as the rise of the emerging consumer, the advent of a cashless society and the arrival of digital consumer platforms. Its investment teams manage over $97bn for clients located around the world. As one of the top-100 ASX shares, Magellan offers investors a 3.5% dividend yield in addition to the opportunity to participate in strong growth in funds under management.
Also in today's edition, copper play Sandfire Resources (ASX:SFR) and Kiwi Sky Network Television (ASX:SKT).
Get access to this edition, and all previous one, with a 2-week FREE TRIAL. No charge on sign up.
Please register or upgrade your plan to access this content.