Stocks Down Under 6 August 2020: Medibank, Mount Gibson Iron, Betmakers Technology Group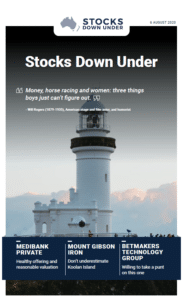 Medibank Private: Healthy offering and reasonable valuation
Based in Melbourne, Medibank Private is a private health insurance company. It was founded in 1975 as an arm of the Government's Health Insurance Commission. As Australia's second largest health insurance provider it has over 3.7m members to which it offers not only private health insurance, but life, travel and pet insurance as well as workplace health management solutions. With the shares down more than 20% year-to-date and a strengthening value proposition we find Medibank to be well worth the premium.
Also in today's edition, a look at Mount Gibson Iron (ASX:MGX) and wagering platform Betmakers Technology Group (ASX:BET).
Get access to all editions with a 2-week FREE TRIAL. No charge to your card on sign up.
Please register or upgrade your plan to access this content.