Stocks Down Under 1 September 2020: Mercury NZ, Telix Pharmaceuticals, Catalyst Metals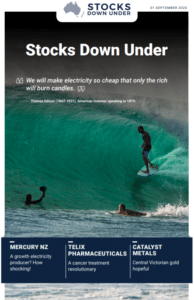 Mercury NZ: A growth electricity producer? How shocking!
Mercury NZ produces, sells, trades and pipes natural gas and sells solar equipment in New Zealand, which is why the company is headquartered in Auckland. Mercury NZ produces the electricity through 14 power stations comprised of nine hydroelectricity plants and five geothermal plants. Mercury NZ has drastically increased its annual capital expenditures and is expanding its electricity generation portfolio to include 60 wind turbines slated to be completed during 2QY22. However, investors are always better off paying a fair price for a low growth company than a significantly overpriced valuation for a growth company.
Get access to all editions through a 2-week FREE TRIAL. No charge on sign up.
Please register or upgrade your plan to access this content.