Stocks Down Under 31 July 2020: Mirvac Group, Integral Diagnostics, Bougainville Copper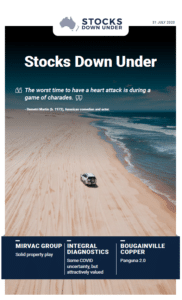 Mirvac Group: Solid property play
Sydney-based Mirvac Group is a major property investment company that was founded in 1972. It is involved in several development sectors and is the first major property company to offer build-to-rent developments. Australian and international companies, major organisations and Government tenants make up its quality rental base. Cash flow visibility and security are high and its mixed-use urban properties are driving sustainable dividend growth. The shares come with a 4.8% yield and are trading below the $2.58 NTA.
Also in today's edition, our diagnosis of Integral Diagnostics (ASX:IDX) and PNG-based Bougainville Copper (ASX:BOC).
Get access to all editions with a 2-week FREE TRIAL. No charge on sign up.
Please register or upgrade your plan to access this content.