Small Cap Stocks Down Under 19 March 2021: Monadelphous, Mader Group, Cluey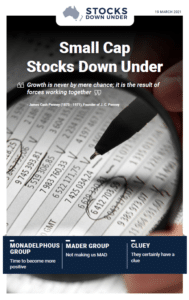 Monadelphous Group: Time to become more positive
Perth-based Monadelphous (ASX: MND) group provides construction, engineering and maintenance services to the energy, resources and infrastructure markets in Australian and six other countries. Project delays and reductions associated with COVID-19 have had a crippling effect on the company's business and financial performance last year, but things appear to be on the upswing. New contract wins in both the construction and maintenance units point to an improving workload as the economy rebounds. Longer term, we believe Monadelphous Group has solid growth prospects related to clean energy and infrastructure activity. Back in April 2020 we started coverage of MND with a two-star, Covid-driven, rating. But we believe now's the time to load up on this one.
Also in today's edition, a look at mining services company Mader Group (ASX: MAD) and student tutoring business Cluey (ASX: CLU).
Click here to read the previous edition of Small Cap Stocks Down Under published 12 March 2021
For in-depth research reports or to keep up-to-date on the latest Stocks Down Under news see our parent company, Pitt Street Research, or follow us on Facebook and Twitter.
Please register or upgrade your plan to access this content.