ASX Top 200 Stocks Down Under 12 October 2020: Netwealth Group, Reliance Worldwide Corporation, Metcash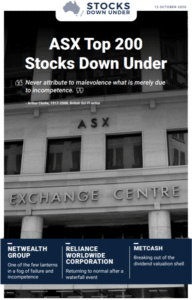 ASX Top 200 Stocks Down Under Edition #4
Netwealth Group: One of the few lanterns in a fog of failure and incompetence
In today's edition of ASX Top 200 Stocks Down Under, headquartered in Melbourne, the Netwealth Group provides superannuation and non-superannuation financial platform products to Australian investors and financial planning advisors. The financial platform industry has seen massive upheaval over the last couple of years as consolidation, scandals and giants falling from grace in this industry has been a constant splashed across the headlines. Few companies have stayed above the fray of this industry turmoil, but Netwealth is one of them. This has not escaped the market, however, and the company's share price reflects this special status.
Also in today's edition, a look at water and plumbing manufacturer Reliance Worldwide Corporation and retail operator and wholesaler Metcash.
Get access to all editions through a 2-week FREE TRIAL. No charge on sign up.
Click here to read the previous edition of ASX Top 200 Stocks Down Under published 5 October 2020
For in-depth research reports or to keep up-to-date on the latest Stocks Down Under news see our parent company, Pitt Street Research, or follow us on Facebook and Twitter
Please register or upgrade your plan to access this content.