ASX Top 200 Stocks Down Under 14 December 2020: NIB Holdings, Platinum Asset Management, Yancoal Australia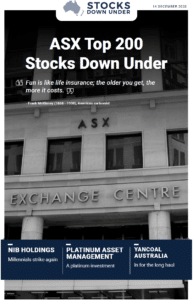 NIB Holdings: Millennials strike again
In today's edition of ASX Top 200 Stocks Down Under, headquartered in Newcastle, Australia (not England), NIB Holdings is one of Australia and New Zealand's largest private health insurers. The company has three main categories of clientele: Australian and New Zealand residents, international students and visitors, and global travel insurance policies. The company was hit hard by COVID-19 and its stock has only recovered by about half. The question is, can it recover to its pre- COVID-19 high?
Also in today's edition, a look at niche asset manager Platinum Asset Management (ASX: PTM) and coal miner Yancoal Australia (ASX: YAL).
Get access to all editions through a 30-day FREE TRIAL. No credit card required and the trial expires automatically.
Click here to read the previous edition of ASX Top 200 Stocks Down Under published 7 December 2020
For in-depth research reports or to keep up-to-date on the latest Stocks Down Under news see our parent company, Pitt Street Research, or follow us on Facebook and Twitter
Please register or upgrade your plan to access this content.