ASX Top 200 Stocks Down Under 8 March 2021: Nuix, Kogan.com, NRW Holdings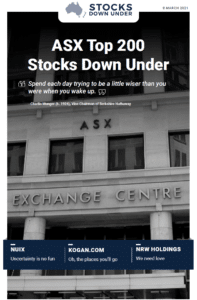 Nuix: Uncertainty is no fun
In today's edition of ASX Top 200 Stocks Down Under, headquartered in Sydney, Nuix was one of the better performing IPOs last year, with the stock ending 2021 up 67% on the December offer price of $5.31. In January it actually peaked close to $11.50. This company owns an algorithm that allows unstructured data to be made searchable and provides the structure for more elaborate analysis. Since its development as a use case for an Australian government agency, the Nuix algorithm has expanded into what is now known as the Nuix Engine, used by over 1,000 customers across 78 countries. After a disappointing half yearly result, which hit the stock badly, we ask whether this an overreaction or if there is more pain to come?
Also in today's edition, a look at internet-based conglomerate Kogan.com (ASX: KGN) and contract services provider NRW Holdings (ASX: NWH).
Click here to read the previous edition of ASX Top 200 Stocks Down Under published 1 March 2021
For in-depth research reports or to keep up-to-date on the latest Stocks Down Under news see our parent company, Pitt Street Research, or follow us on Facebook and Twitter.
Please register or upgrade your plan to access this content.