ASX Top 200 Stocks Down Under 8 February 2021: Pro Medicus, Megaport, Polynovo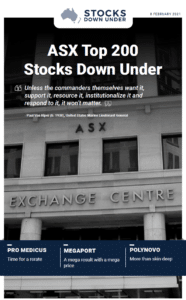 Pro Medicus: Time for a rerate
In today's edition of ASX Top 200 Stocks Down Under, We last published on Pro Medicus back on 26 October 2020 rating the company two stars not based on our dislike for the product, but what we viewed as overblown hype towards the stock. That view turned out to be an appropriate one, however, the situation has now changed, with Pro Medicus having announced three major contract wins, two in December and one in January. We believe the market has quickly recognised this change and, we are therefore, updating our rating to three stars.
Also in today's edition, a look at management software developer Megaport (ASX: MP1) and healthcare product developer Polynovo (ASX: PNV).
Get access to all editions through a 30-day FREE TRIAL. No credit card required and the trial expires automatically.
Click here to read the previous edition of ASX Top 200 Stocks Down Under published 1 February 2021
For in-depth research reports or to keep up-to-date on the latest Stocks Down Under news see our parent company, Pitt Street Research, or follow us on Facebook and Twitter
Please register or upgrade your plan to access this content.