Emerging Stocks Down Under 9 March 2021: PYC Therapeutics, Sprint Technology Solutions, Yojee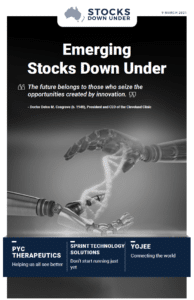 PYC Therapeutics: Helping us all see better
In today's edition of Emerging Stocks Down Under, formerly known as Phylogica, PYC Therapeutics is finally making headway with its delivery of RNA-based therapy in the treatment of ocular diseases. Since the company's first drug-delivery campaign in early 2020, PYC's share price has leapt to a high of 19 cents late in the year, from its previous low of 5 cents in the nightmare month of March 2020. As the company builds momentum towards human trials, there is already much investor excitement about the potential application of its cell-penetrating peptide technology in specific eye diseases.
Also in today's edition, a look at IT and telecommunications provider Sprint Technology Solutions (ASX: ST1) and logistics supply chain platform developer Yojee (ASX: YOJ).
Click here to read the previous edition of Emerging Stocks Down Under published 2 March 2021
For in-depth research reports or to keep up-to-date on the latest Stocks Down Under news see our parent company, Pitt Street Research, or follow us on Facebook and Twitter.
Please register or upgrade your plan to access this content.