Stocks Down Under 16 July 2020: QBE Insurance, GrainCorp, Salt Lake Potash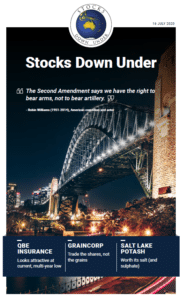 GrainCorp: Trade the shares, not the grains
Sydney-based GrainCorp listed on the ASX in 1998, but it started life all the way back in 1917 as a government-owned company tasked to collect and transport grains from all over New South Wales by rail. In 2000, it merged with its Victorian counterpart and later on expanded into the US and other countries. Today, GrainCorp is one of the world's leading grain traders accounting for more than 50% of export trade. Its shares show a very distinct trading range, between $3 and $4.50, over the last six years. We believe investors can benefit from GrainCorp's grain trading skills, but also from the specific trading history of the company's shares.
Also in today's edition: QBE Insurance and Salt Lake Potash.
Get access to all editions with a FREE TRIAL. No charge on sign up.
Please register or upgrade your plan to access this content.