Stocks Down Under 8 September 2020: Qube Holdings, Marley Spoon AG, Laybuy Group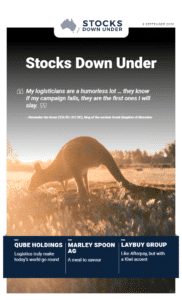 Qube Holdings: Logistics truly make today's world go round
In the era of COVID-19 and the sharp retraction of globalisation as we have known it, Qube Holdings stands alone in the rain to remind us that the world has not screeched to a halt.  Qube Holdings is Australia's largest integrated provider of import and export logistic services, and despite being headquartered in Sydney, the company has over 130 locations in Australia, New Zealand and South-East Asia. During COVID-19 Qube Holdings has suffered some unavoidable hits, but all-in-all the company has faired extremely well, despite remaining off its pre-COVID-19 highs.
Also in today's edition, a look at meals provider Marley Spoon AG and Buy Now Pay Later provider Laybuy Group.
Get access to all editions through a 2-week FREE TRIAL. No charge on sign up.
Please register or upgrade your plan to access this content.