Stocks Down Under 19 June 2020: Restaurant Brands New Zealand, Collins Foods, Garda Property Group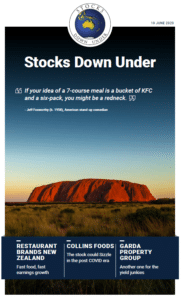 Fast Food mini Special Report
A look at Restaurant Brands New Zealand and Collins Foods
It's been one of the more amazing share price turnarounds of the Post Corona Crash Recovery. On 23 March 2020 Restaurant Brands New Zealand – the Auckland-based company, which brings you KFC, Pizza Hut and Carl's Jr in the Land of the Long White Cloud, saw its stock on NZX close at a mere NZ$6.60. It had been NZ$13.99 on 30 December 2019. Restaurant Brands stock, which trades on both NZX and ASX, has now made up almost all that was lost. And no wonder. Kiwis liked KFC and Pizza Hut before the Crisis, and a short time in lockdown won't have slaked that appetite.
Get acces to all editions of Stocks Down Under through a FREE 2-week Trial!
Please register or upgrade your plan to access this content.