ASX Top 200 Stocks Down Under 19 July 2021: Skycity Entertainment Group, Piedmont Lithium, St Barbara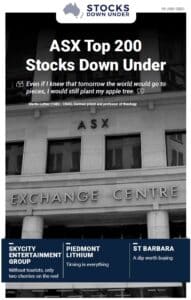 Skycity Entertainment Group: Without tourists, only two cherries on the reel
In today's edition of ASX Top 200 Stocks Down Under, much has changed since we raised the caution flag on New Zealand casino operator Skycity Entertainment Group on 30 January 2020. At the time, the coronavirus was still confined to China, but the impact on visitors from Asia was already being felt. The global casino industry has been among the hardest hit by the pandemic and the slowest to recover. Although SkyCity's stock is up 45% over the past year, tourist traffic is still down. Absent this key source of revenue, we wouldn't be comfortable placing any bets.
Also in today's edition, a look at lithium miner Piedmont Lithium (ASX: PLL) and gold miner St Barbara (ASX: SBM).
Click here to read the previous edition of ASX Top 200 Stocks Down Under published 12 July 2021
For in-depth research reports or to keep up-to-date on the latest Stocks Down Under news see our parent company, Pitt Street Research, or follow us on Facebook and Twitter.
Please register or upgrade your plan to access this content.