ASX Top 200 Stocks Down Under 10 January 2022: Suncorp Group, Pinnacle Investment Management Group, Air New Zealand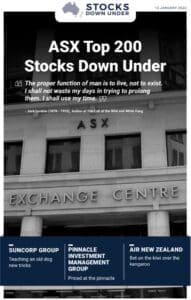 Suncorp Group: Teaching an old dog new tricks
In today's edition of ASX Top 200 Stocks Down Under, when we last covered Brisbane-based Suncorp Group on
16 April 2020
, the company was valued at just shy of $12bn after a massive decline in the stock price. However, we believed management's digital strategy and renewed focus on its roots would lead to a strong reversal to the upside, forming the basis of our four-star rating. Suncorp is now valued at over $14bn, and we still believe this company has a few tricks left up its sleeve that deserves a continuation of our four-star rating.
Also in today's edition, a look at financial manager the Pinnacle Investment Management Group (ASX: PNI) and airline Air New Zealand (ASX: AIZ).
We last wrote about the Suncorp Group, Pinnacle Investment Management Group, and Air New Zealand on
16 April 2020
,
25 May 2020
, and
14 April 2020
, respectively.
Click here to read the previous edition of ASX Top 200 Stocks Down Under published 20 December 2021
For in-depth research reports or to keep up-to-date on the latest Stocks Down Under news see our parent company, Pitt Street Research, or follow us on Facebook and Twitter.
Please register or upgrade your plan to access this content.