Emerging Stocks Down Under 27 October 2020: Superloop, Neuren Pharmaceuticals, Redflex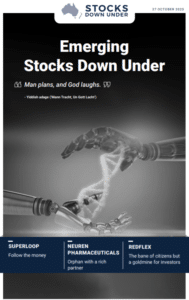 Emerging Stocks Down Under Edition #6
Superloop: Follow the money
In today's edition of Emerging Stocks Down Under, Superloop's IPO in June of 2015 looked very promising with the share price spiking 96% from its $1 IPO price on the first day of trading. In the 14 months that followed, the stock went up to an intra-day peak of $3.36 in September 2016. But it's been downhill ever since, literally if you look at the share price chart, and Superloop is now trading at $0.94. That's twice as high as during the 45-cent bottom at the height of the Corona Crash in March this year. Technical analysts might say Superloop has formed a reverse head-and-shoulder formation since June 2019, which would indicate upside from here. As fundamental analysts, we're wondering if the company's valuation and expected growth rates give us reason to turn bullish after four years of unrelenting share price declines.
Also in today's edition, a look at Melbourne-based drug developer Neuren Pharmaceuticals (ASX: NEU) and traffic camera developer Redflex (ASX: RDF).
Get access to all editions through a 2-week FREE TRIAL. No charge on sign up.
Click here to read the previous edition of Emerging Stocks Down Under published 20 October 2020
For in-depth research reports or to keep up-to-date on the latest Stocks Down Under news see our parent company, Pitt Street Research, or follow us on Facebook and Twitter
Please register or upgrade your plan to access this content.