Small Cap Stocks Down Under 26 February 2021: Tamawood, Candy Club, Namoi Cotton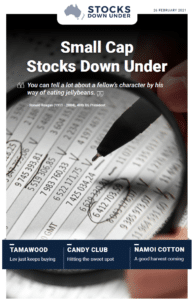 Tamawood: Lev just keeps buying
In today's edition of Small Cap Stocks Down Under, the Brisbane-based project home builder Tamawood has recovered nicely from the Corona Crash, a disaster that helped push the stock down to $2.38 a share by late April 2020. With the nation's housing market now heating up again as the economy returns to normal, we believe Tamawood with its Dixon Homes business is well placed to succeed.
Also in today's edition, a look at candy seller Candy Club (ASX: CLB) and cotton producer Namoi Cotton (ASX: NAM).
Click here to read the previous edition of Small Cap Stocks Down Under published 19 February 2021
For in-depth research reports or to keep up-to-date on the latest Stocks Down Under news see our parent company, Pitt Street Research, or follow us on Facebook and Twitter.
Please register or upgrade your plan to access this content.