Resources Stocks Down Under 5 November 2020: Tribune Resources, Calidus Resources, Mayur Resources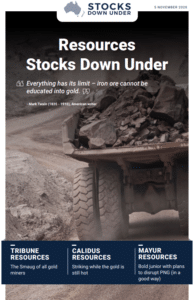 Resources Stocks Down Under Edition #7
Tribune Resources: The Smaug of all gold miners
In today's edition of Resources Stocks Down Under, for a successful gold explorer, Tribune Resources has been oddly quiet about its recent success at its Ghanaian gold project. This small-cap has been producing gold ore at the East Kundana Gold Project (EKJV) in WA since 2005, so its foray into Ghana and the Philippines might come as a surprise for a company which rarely makes the big news. Tribune has, by and large, had a good year on the market, holding above $7.00 and making a high of $8.20 in August.
Also in today's edition, a look at gold miner Calidus Resources (ASX: CAI) and industrial minerals and energy company Mayur Resources (ASX: MRL).
Get access to all editions through a 2-week FREE TRIAL. No charge on sign up.
Click here to read the previous edition of Resources Stocks Down Under published 29 October 2020
For in-depth research reports or to keep up-to-date on the latest Stocks Down Under news see our parent company, Pitt Street Research, or follow us on Facebook and Twitter
Please register or upgrade your plan to access this content.