Stocks Down Under 19 May 2020: Woolworths, Peet Limited, Orbital Corporation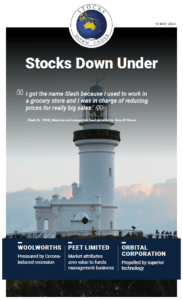 Orbital Corporation: Propelled by superior technology
Perth-based Orbital Corporation develops and markets integrated engine systems for military drones, or Unmanned Aerial Vehicles (UAV's). It has been doing this so successfully that it now sells its systems to the world's largest defence contractors, including Boeing and Lockheed Martin. And it recently signed a development agreement with Northrop Grumman for the development of a hybrid UAV propulsion module. Time to take a closer look at this high-flying Tech company.
Also in this edition, Woolworths (ASX:WOW) and Peet Limited (ASX:PPC).
Get full access to this edition of Stocks Down Under and all previous ones with a FREE TRIAL. No charge on sign up!
Please register or upgrade your plan to access this content.