ASX Top 200 Stocks Down Under 26 October 2020: Afterpay, Pro Medicus, Steadfast Group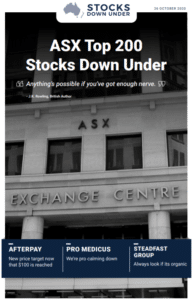 ASX Top 200 Stocks Down Under Edition #6
Afterpay: New price target now that $100 is reached
In today's edition of ASX Top 200 Stocks Down Under, as most readers will be aware, at Stocks Down Under we've been quite bullish on the Buy Now, Pay Later space, and AfterPay in particular. We first got excited about AfterPay in November 2019 in an episode of Friday Beers with Marc & Stuart, available on the website of our friends at Pitt Street Research. And we've written about AfterPay multiple times in Stocks Down Under, initially calling a $50 price target on 4 March 2020 followed by a new target of $100 per share when the initial target was reached in late May. Well, last week AfterPay hit $100 per share, $102 to be exact. So, where to from here?
Also in today's edition, a look at imaging and radiology information system software company Pro Medicus (ASX: PME) and general insurance broker the Steadfast Group (ASX: SDF).
Get access to all editions through a 2-week FREE TRIAL. No charge on sign up.
Click here to read the previous edition of ASX Top 200 Stocks Down Under published 19 October 2020
For in-depth research reports or to keep up-to-date on the latest Stocks Down Under news see our parent company, Pitt Street Research, or follow us on Facebook and Twitter