Resources Stocks Down Under 9 December 2021: Alligator Energy, Caravel Minerals, Gascoyne Resources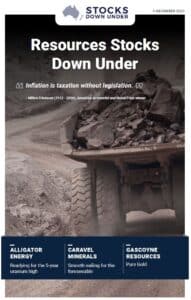 Alligator Energy: Readying for the 5-year uranium high
In today's edition of Resources Stocks Down Under, Alligator Energy is focused on making sure its flagship Samphire Uranium Project in South Australia is production-ready for when (and if) approvals come forward for a fourth uranium mine in the state. Although uranium's return has been slow, the company is one of many juniors ready to fill the uranium supply deficit that's been emerging for some years now.
Also in today's edition, a look at copper miner Caravel Minerals (ASX: CVV) and gold miner Gascoyne Resources (ASX: GCY).
Click here to read the previous edition of Resources Stocks Down Under published 2 December 2021
For in-depth research reports or to keep up-to-date on the latest Stocks Down Under news see our parent company, Pitt Street Research, or follow us on Facebook and Twitter.