Stocks Down Under 21 August 2020: Ampol, Uniti Group, 4DMedical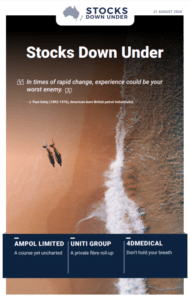 Ampol Limited: A course yet uncharted
Operating through two main business segments, convenience retail and fuel and infrastructure, Sydney-based Ampol purchases, refines and distributes petroleum products across Australia, New Zealand and Singapore.  Previously known as Caltex Australia Limited the company rebranded to Ampol Limited on 15 May 2020 and changed its ticker from CTX to ALD. Other than that, however, the company remains the same. Despite being up 56.3% since its 52-week low in March, Ampol shares seem unlikely to do much in the near future as the price of oil remains low and margins remain depressed.
Also in today's edition, Telcom roll-up Uniti Group (ASX:UWL) and medical imaging play 4DMedical (ASX:4DX).
Get access to all editions through a 2-week Free Trial. No charge on sign up.