Resources Stocks Down Under 2 September 2021: Argosy Minerals, Tungsten Mining, Anova Metals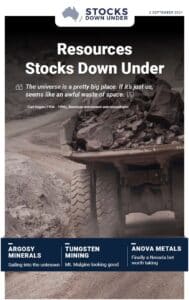 Argosy Minerals: Sailing into the unknown
In today's edition of Resources Stocks Down Under, with its flagship Rincon Lithium Project situated in the famous 'Lithium Triangle', Argosy Minerals is close to being a lithium producer, but still some time away from its goal of 10,000 tonnes per annum of lithium carbonate product. With some very Argentine-specific issues in mind, Argosy is determined to become the next lithium brine producer in South America, while also looking further afield to America's friendly lithium sector for some extra reward.
Also in today's edition, a look at tungsten miner, Tungsten Mining (ASX: TGN) and gold miner Anova Metals (ASX: AWV).
Click here to read the previous edition of Resources Stocks Down Under published 26 August 2021
For in-depth research reports or to keep up-to-date on the latest Stocks Down Under news see our parent company, Pitt Street Research, or follow us on Facebook and Twitter.