Stocks Down Under 6 July 2020: ASX, Avita Therapeutics, Sezzle Inc.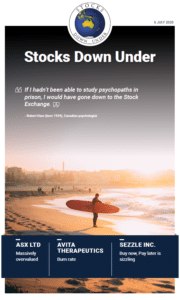 ASX Ltd: Massively overvalued
Sydney-based ASX Limited is Australia's main security listing and trading venue and one of the largest exchange groups in the world. It acts as a clearinghouse, market operator and payments facilitator in providing a wide set of bond, equity, futures, commodity and energy trading services. ASX also acts in a compliance capacity and offers data and technology services to banks, intermediaries and software companies. Trading near an all-time high, the shares only offer a 2.7% dividend yield and are valued at a massive 22x EV/EBITDA. Despite its leadership position, we're not sure ASX is worth that sort of valuation. Let's take a look.
Also in today's edition: Avita Therapeutics (ASX:AVH) and Sezzle Inc. (ASX:SZL).
You can read the entire edition with a FREE 2-week TRIAL. No charge on sign up, so give it a go!