ASX Top 200 Stocks Down Under 28 March 2022: United Malt Group (ASX:UMG)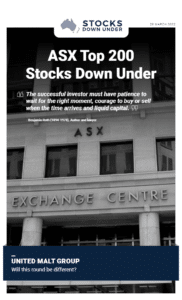 United Malt Group: Will this round be different?
Today we look at United Malt Group (ASX:UMG), roughly two years since it was spun out of GrainCorp (ASX: GNC). This company makes malt, which is a key ingredient for craft beer. Craft beer has performed worse than other forms of beer because it is typically drunk at pubs, concerts and sports events – all of which have been interrupted by COVID-19. Initially, the company proved resilient to COVID-19 but has declined in recent months after disappointing results – hit not just by lockdowns but adverse forex effects and certain one-off capital expenditure items. We think this company has a bright future when COVID-19 is completely behind us.
Click here to read the previous edition of ASX Top 200 Stocks Down Under published 21 March 2022
For in-depth research reports or to keep up-to-date on the latest Stocks Down Under news see our parent company, Pitt Street Research, or follow us on Facebook and Twitter.