ASX Top 200 Stocks Down Under 7 March 2022: Flight Centre (ASX:FLT)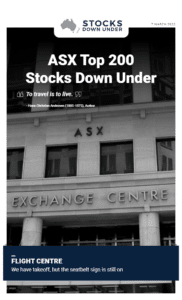 Flight Centre: We have takeoff, but the seatbelt sign is still on
Today, we look at travel agent Flight Centre for the third time in the history of ASX Top 200 Stocks Down Under. It's only been six months since we last covered it but shareholders would be forgiven for thinking it's been longer with all that's happened in that period – Omicron, the Ukraine crisis and a major market correction. Unfortunately, there's still more turbulence to come but we still think travel will be back to pre-COVID levels by 2024 and Flight Centre will be back in the black. So it's four stars again, but not without a warning to expect more turbulence.
Click here to read the previous edition of ASX Top 200 Stocks Down Under published 28 February 2022
For in-depth research reports or to keep up-to-date on the latest Stocks Down Under news see our parent company, Pitt Street Research, or follow us on Facebook and Twitter.